Public Meeting Monday 26th July 2010 on Local Elections
The Local Elections are happening in October…
Do you know what you will be voting for??
Come and find out…..

PUBLIC MEETING

Papakura RSA
7pm Monday 26th July 2010

Presenters Caroline Conroy & Mark O'Connor.
Organised by SavePapakura.com

Please let your family and friends know.



The Great Papakura Debate
In a series of debates come along and listen to the views of MPs and ask your questions on….

The environment
Held Monday 12th July 2010


The Economic Vision for NZ….
can we shape our own future or are we just part of the global village?
Held Monday 31st May 2010


Transport: Are we on the right track or the road to nowhere?
Held Monday 12th April 2010


On the right track or the road to nowhere? (SavePapakura.com media release, 07Apr2010)


---
Welcome to SavePapakura.com
It's your town
---
Select committee info 2010, 2009 | Research | Links | About us | Media releases

---
The Supercity threat can, and must, be stopped
Please register your contact details with us so we can keep up updated; and informed on some simple effective actions you can do to save Papakura.
Your privacy is important to us, and your contact details will not be transferred.
Our Auckland - have your say

A regionwide coalition called Our Auckland is urging Aucklanders to have a say on the Government's "Super City" proposals.

Formed by a broad range of community groups and individuals from across the Auckland region, the group launched its campaign on Thursday 29 April 2010.


More...
People's Referrendum results
A People's Referrendum was held for those in Auckland, with voting during eight days 06-14 May 2010::

Do you approve of the way in which the Government is setting up the new Auckland Council (the "Super City")?

4% Yes, 96% No from 8973 valid votes.



More results and further information online at www.ourauckland.org.nz
ATA submissions on Local Boards and Council-controlled organisations (CCOs)
Auckland Transition Agency submissions closed 5pm Friday 26th March 2010.
Read the SavePapakuara.com submissions...


More...



3rd Supercity Bill
–

Have your say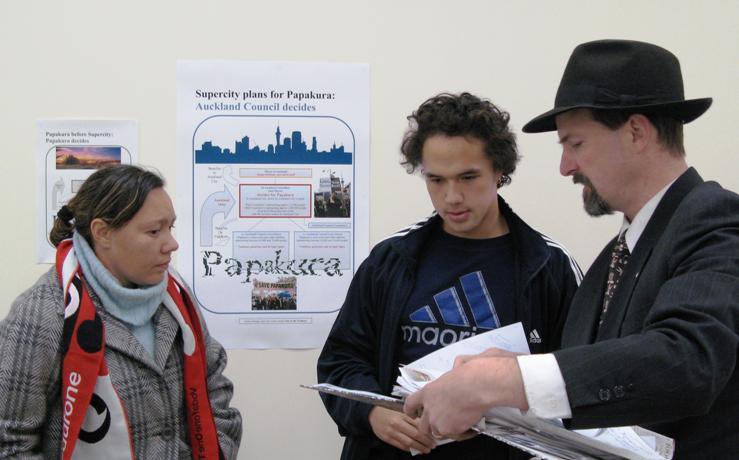 Select Committee submissions closed on Friday 12 February 2010 (before midnight).




More...



Papakura speak up in Supercity news poll
–

your views count The Herald on Sunday and research company Buzz Channel are doing a nationwide survey on your views of the Auckland Supercity, and will progressively report on the results during January. Communities like yours deserve to be noticed, so please make your views count in this short survey.

The Herald on Sunday article briefly mentioning why the survey is being done is at:
http://www.nzherald.co.nz/nz/news/article.cfm?c_id=1&objectid=10616099

Please take part in the poll, open during January 2010:
http://www.buzzchannel.co.nz/SE/default.aspx?u=6cbb21fe5e034edf97e0dcb2cc34b4c8&h=2716&w=1

Please invite your friends and family to have their say.


Papakura District is seeking to become a standalone Unitary Authority, outside of the Auckland Supercity

Franklin District Council are seeking to become a standalone Unitary Authority:
North Rodney District residents are petitioning to be excluded from the Supercity; such as the petitions by the Northern Action Group (NAG) presented on the steps of Parliament on Monday 10th February 2010:

Stop the Papakura boundary carve up

Under the government's Supercity plans, this time next year Papakura may not exist and you could be in Manurewa or Franklin!

Take Action Now!

Submissions to the Local Government Commission closed 5pm Friday 11th December 2009.
Local Government Commission
Submissions
SavePapakura.com submission

(09Dec2009)

Own Ward and Councillor required; we oppose a combined Manurewa-Papakura Ward
Local Papakura Board required with existing Papakura District boundaries; we oppose Papakura's rural areas transferred to Franklin
Representation levels need lowering to provide fair access and engage the community
Discussion papers
Papakura Pub Debate on the Auckland Supercity
A lively debate was held on 29 September 2009. Audio and video are available online.
More...


You

can make the difference
Please e-mail MPs what you think of the Auckland SuperCity
Hon Dr Jonathan Coleman, MP for Northcote
j.coleman@ministers.govt.nz
Hon Judith Collins, MP for Papakura
j.collins@ministers.govt.nz
office@judithcollins.co.nz
Hon Rodney Hide, MP for Epsom
r.hide@ministers.govt.nz
rodney@epsom.org.nz
Dr Paul Hutchison, MP for Hunua
paul.hutchison@parliament.govt.nz
hunua.electorate@xtra.co.nz
Nikki Kaye, MP for Auckland Central
nikki.kaye@parliament.govt.nz
Hon John Key, MP for Helensville
j.key@ministers.govt.nz
Peseta Sam Lotu-Iiga, MP for Maungakiekie
peseta.sam.lotu-iiga@parliament.govt.nz
Hon Dr Wayne Mapp, MP for North Shore
w.mapp@ministers.govt.nz
Hon Murray McCully, MP for East Coast Bays
m.mccully@ministers.govt.nz
Allan Peachey, MP for Tamaki
allan.peachey@parliament.govt.nz
Hon Dr Lockwood Smith, MP for Rodney
mp.rodney.warkworth@xtra.co.nz
Hon Maurice Williamson, MP for Pakuranga
m.williamson@ministers.govt.nz
Hon Pansy Wong, MP for Botany
p.wong@ministers.govt.nz
Hon Paula Bennett, MP for Waitakere
paula.bennett@xtra.co.nz
loren.bolton@parliament.govt.nz
Supercity select committee info
---
Principles
SavePapakura.com
It's your town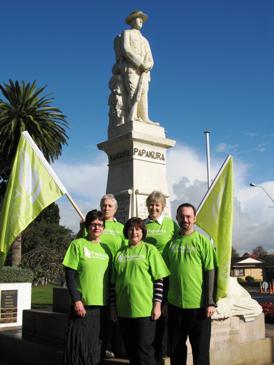 Papakura urgently needs your voice; it is under a Supercity attack and needs your help.
SavePapakura.com is a community group of residents, organisations and businesses concerned about the Auckland Supercity threat to democracy.

No amalgamation
No loss of local decision making
No rate hikes
We reject the Government's Supercity proposals
Our principles to support Papakura
Local decision making on local needs
No taxation without representation
Representation local to Papakura
Regulatory kept local
Autonomous 'Communities of Interest'
Meaningful community engagement
Make it easy to have your say with decision makers
Financial accountability
Community assets controlled by communities
Avert Supercity rate hikes - damaging to Papakura's residents and businesses
Save Papakura's identity
It's your town; the best of town and country
The people, the people, the people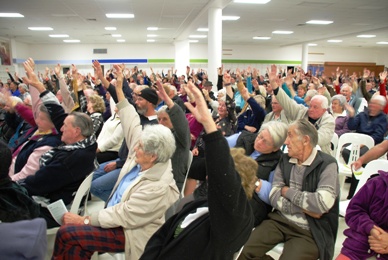 Over 1000 concerned Papakura citizens met on a cold, rainy night on Monday 04th May 2009. In that firery public meeting, all except three people opposed the Government's Supercity plans and the changes it would mean for Papakura residents. From the meeting's decisions arose the principles and formation of the SavePapakura.com community action group.

SavePapakura.com connects residents, businesses and organisations to Save Papakura.


---
This page updated: Thursday 22 July 2010 04:30 NZST
Copyright © 2009-2010 SavePapakura.com